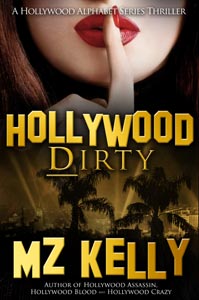 Kate and Bernie are back in the fourth book in Hollywood Dirty, the fourth book in the series!
LAPD Detective Kate Sexton and her canine partner, Bernie, are out to solve one of the biggest crimes in Hollywood history. Olympic gold medalist, Jezzie Rose, America's Sweetheart, has been found dead and dumped in an alleyway. All signs point to Jezzie's former boyfriend as committing the crime, but the case takes an unexpected turn when Kate suspects someone else is involved. Things then get complicated when LAPD's new chief of police allows the press into the case. To make matter's worse Kate's love life is full of ups and downs, her roommates Natalie and Mo insist on interfering in the case, and her sexually obsessed elderly landlord, Nana, has bagged herself a clinically depressed Elvis impersonator. Oh, and one other thing. Kate is determined to get to the bottom of a thirty-year-old family secret involving the murder of her father.
Can Kate and Bernie track down the killer, keep her friends under control, deal with Nana and Elvis's lusty relationship, find love again, and find her father's killer? Hollywood Dirty is loads of trouble, tons of laughs, and full of the dirty little secrets that have made tinsel town famous.