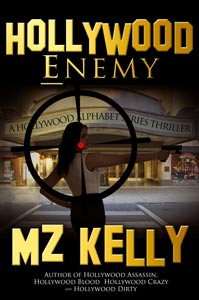 Detective Kate Sexton and her canine partner, Bernie, are back in Hollywood Enemy, the fifth book in the Hollywood Alphabet Series.
Thirty years after Kate's father was murdered in cold blood, his killer is back and he's coming for her. After the department decides to temporarily assign her to work with the FBI to get her out of harms way, Kate soon learns that things have gone from bad to worse when she's assigned to help track down, The Artist, one of the most deranged and sadistic serial killers in the history of the agency. As The Artist's killing cycle approaches, Kate teams with hard-headed FBI agent Joe Dawson who has recently come out of retirement to work the case.
As Kate and Joe track the killer, things take an unexpected turn. The Artist returns to the place where his killing cycle began, at the same time Kate herself is stalked by the deranged mad man who shattered her family by killing her father when she was a little girl.
Packed with fast-paced action, loads of laugh-out-loud humor, a crazy cast of new and returning characters, and edge-of-your-seat suspense, Hollywood Enemy is a not to be missed thrill ride.