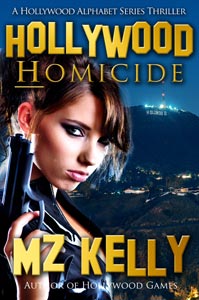 Hollywood Homicide, the eighth book in the funny, crazy, wild lives of Detective Kate Sexton and her canine partner, Bernie, opens with Kate's career taking a new turn when she's assigned to LAPD's new homicide unit, Section One. Kate soon realizes that Section One cases are the highest profile and most difficult homicides in the department. After teaming with her new partner, Ted Grady, Kate responds to a horrific crime scene where she finds the body of Hollywood Starlet, Scarlett Endicott.
All signs point to a Hollywood fixer, Pearce Landon, having been at work trying to clean the crime scene before having to leave in a hurry when the police were called. Kate isn't convinced of Landon's involvement and sets out to find Scarlett's real killer at the same time the fixer tries to prove his own innocence. As Kate tries to deal with a difficult new boss and find emotional closure to her past relationships, she and Ted have to deal with some of Hollywood's elite power brokers, a psychiatrist known as the shrink to the stars, and a hired killer. Throw in Kate's meddling best friends, Natalie and Mo, and a past homicide that becomes a suddenly hot cold case, and you've got all the ingredients for another great ride through the streets of Hollywood.
Join Kate as she tries to put her personal life back in order, at the same time she tries to solve one of the most difficult crimes she's ever encountered. Hollywood Homicide explodes with all the thrills, twists, and turns that have made the Hollywood Alphabet Series an instant success.